Don't miss out on valuable
NFT insights
There's no need to feel left out when you can get the latest floor prices for any Solana NFT collection. No more missing out on those sweet prices.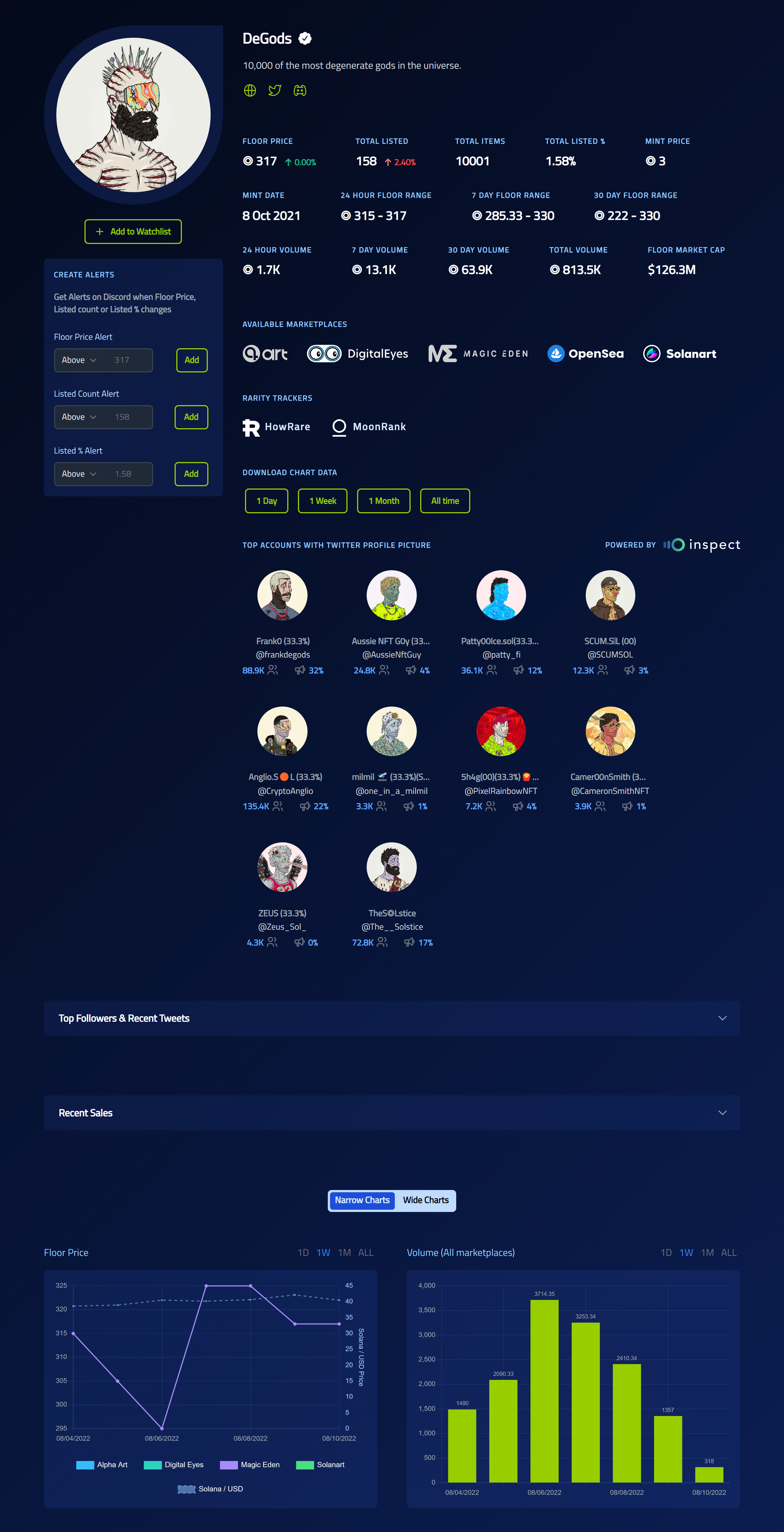 We

can help your next buy be a smart choice for you.
Don't miss a potential opportunity. Stay updated on market activity so you can be early, not late.
NFT Insights
Track the floor, volume and listed count of a collection and see the related charts that can help you make informed buying and selling decisions. View the top volume. floor movers and listing movers across a range of period.
Top Volume
Tracking 8 marketplaces
We monitor the collections across 7 marketplaces (Magic Eden, Solanart, Hyperspace, OpenSea, Yawww, SMB Market, Fractal), so you don't have to do the hard work of checking for a collection in another marketplace.
Search Collections
Premium Features
Go premium to unlock more features
Take advantage of all the premium features SolsWatch Club NFT has to offer. Join Discord for details on the mint.
Top Holder Data

On-chain data including unique holders of a collection are presented in a linear chart. For collections with a checkmark next to the name, you can see how many people own a NFT, and who the top 20 holders are.

Hourly Volume and Floor

View the volume and floor price movement for periods shorter than 24 hours, like 1 hour, 4 hours, 12 hours. Be the first to know, which collections are gaining momentum across marketplaces.

Analytics Chrome Extension

A Chrome extension (Chrome Store Link) for Twitter users who want to easily check the data of any marketplaces, floor, volume and listed count directly from the Twitter profiles of the collection.

All-time Chart Data

View the all-time data in charts to monitor the floor price trends across months. Data is available from 26th October, 2021 since when the tracking started for the collections.

Watchlist Dashboard

Add any collection to your watchlist and quickly access it from the watchlist page. Watchlist is especially helpful if you track many collections. It provides a single view where you can see all the insights for your most important collections at once, without having to switch between different collections.

Discord Notifications

If the floor price of a collection falls below or rises above the set price, we will send you a Discord notification. If there is a decrease in listings or increase in floor price for a specific collection, you'll get a notification with the collection's link on sols.watch and the marketplace link.

Downloadable Charts

The charts available for the collections can be downloaded as a csv file. You can open it in Excel or another spreadsheet program, and use it to create your own charts, or to perform calculations on the data.

Portfolio Tracker

Track the data for all your NFTs from multiple wallets in a single dashboard. Get a quick summary of the total floor value, individual floor movements and 24 hour volume of your portfolio.